[ Previous | Table of Contents | Next ]
one of the first groups to write most of its own material
transformed the sound of rock & roll

moved from simple love songs to perfectionistic studio extravaganzas

simply put, the Beatles influenced every act that came after them
click here to see some interesting photos
John and Paul met at a church picnic (7/6/57) where John's "Quarry Men" were playing

John formed the band after hearing "Rock Island Line," a smash skiffle hit by Lonnie Donegan

"skiffle" style

simple, 3-chord style featuring easily accessible instruments (guitar/banjo, washboard, "bass" made from a broom handle & wooden chest)
Contrast John & Paul:
John Lennon

creative talent was balanced by rebellious, delinquent side
his parents weren't around much

--mother left to live with another man within a year of John's birth
-- father worked at the shipyard

his care fell to his aunt & uncle to whom he became quite a burden
grades declined
heard Elvis & other rock music on Radio Luxembourg (BBC wouldn't play)
basically, rebellious & iconoclastic

Paul McCartney

father (Jim) ran a rather successful society band (The Jim Mac Jazz Band) in the 20s
although right-handed, plays guitar/bass left-handed & strung in reverse order
at that same garden party, Paul amazed John & friends with his authentic renditions of Little Richard tunes (hear him sing "")
essentially, practical and business-like to the point of being stingy
Forming the Band:
Paul's friend (George Harrison) began hanging out with the Quarry Men (now called Johnny & the Moondogs)

younger than the others and John considered his presence an intrusion
eventually Paul convinced John to let George join

Stu Sutcliffe (talented student at Art College where John continued studying) bought a bass, determined to join John's band
as the band planned for a low-budget, second-rate Scottish tour, the manager recommended a name change

Stu suggested the "Beetles" (reference to Holly's "Crickets")
John came up with the idea of misspelling
finally, the "Silver Beatles"

May 1960 - the band was not very good

Stu could hardly play, no stage act, no stage costumes
currently drummerless ... Tommy Moore would play drums with them at times

Prior to their 1st (of 4) 2-month booking in Hamburg (summer 1960), Paul approached a local drummer, Pete Best (handsome w/glittering new drum set), about joining the band

found themselves in the Indra (a "dive" on the "wrong end" of a "happenin'" city)
eventually moved to the "Kaiserkeller," sharing the stage with other acts.

Sets were 4½ hours per night

repertoire consisted of lots of covers (Holly, Berry, Perkins, Little Richard, etc.)
began developing stage show

Pete Best was distinct from the others

he was strikingly good looking ... girls looked past the others and oogled Pete
did not join in on the increasingly outrageous stage show, nor the after-hours partying

shortly after abandoning Herr Koschmider's Kaiserkeller for a new club (the Top Ten club), George was deported by the German authorities

it was discovered that he was underage and had no work permit
after getting into further trouble with the law following Paul's "inadvertent" setting curtains on fire, the other Beatles followed him home
Cavern Club (Liverpool) - underground cellar that had been a jazz club, began showcasing local talent

popularity of the new "beat" sound
began to build a loyal Liverpool following

mid-1961 - returned to Hamburg's Top Ten club

alternated sets with Tony Sheridan
Stu's musical ineptitude became glaringly obvious and he had become more interested in art & girlfriend
Stu left the band and Paul moved to bass

made their 1st commercial recording on this trip

as backup band for Tony Sheridan ("My Bonnie Lies Over the Ocean" and "When the Saints Go Marching In")
My Bonnie (later, hit #26 on US charts, 3/64)

as the Beat Brothers ("Ain't She Sweet" and the instrumental "Cry For a Shadow"); Sheridan recording became a minor hit in Germany

it was this recording that Beatles fans in Liverpool began requesting at the local record store

store manager (Brian Epstein) became curious and sought out the Beatles … eventually became their manager

1962 - Brian began searching for record contract

refused by almost every record label in Britain
they recorded 15 songs in the Decca studios, but under pressure these recordings were not impressive
having decided to sign only one "beat" group, Decca decided to go with Brian Poole & the Tremeloes instead!!
angered, Epstein warned the execs that one day his band would be bigger than Elvis (execs smiled knowingly as he stomped out)

Brian eventually died from a combination of alcohol and sleeping pills (8/27/67) ... he no longer felt needed

4/62 - landing in Germany, Beatles learned that Stu had died that day!
6/62 - due to the foresightedness of producer George Martin of Parlophone (bottom of the totem pole of the EMI subsidiaries), the Beatles were awarded a 1-year, 4-song contract

Martin wanted to bring the "beat" sound and his record label to higher status & respectability
9/62 - recorded "Love Me Do," and "P.S. I Love You"

released 10/4 and "Love Me Do" managed to reach #17 with very little airplay
Ringo replaced by session drummer (Andy White) on these tunes – he played tambourine
Love Me Do
(US #1, 5/64)
late November - recorded "Please, Please Me"

Martin assured the Beatles upon hearing the final version that they had a #1 hit
his prediction came true in Britain on 3/2/63
Please Please Me
(UK #1, 3/63; US #3, 2/64)
followed with an album of newly recorded tunes

originals included "I Saw Her Standing There" and "Do You Want To Know a Secret"
covers included "" by the Isley Brothers

4/63 - 3rd Parlophone release ("From Me to You") hit #1

with Gerry & the Pacemakers (another of Brian's acts) also on the charts, people began speaking of the "Liverpool sound" or "Mersey beat" (Mersey River in Liverpool)
From Me to You
(UK #1, 4/63)
4th hit ("She Loves You") went to #1 in the UK, based on advance sales!!!
became the biggest selling single in British history
so began the series of TV performances, Swedish tour, and Royal Command Performance (11/63)
She Loves You
(UK #1, 1963; US #1, 2/64)
late 1963 - British version of Beatlemania is in full swing
newspaper articles & interviews

Beatles are charming & witty

radio & television appearances
Beatles products: Beatle wigs, Beatle clothes, Beatle dolls, lunch pails, cartoon series

due to Epstein's ineptitude, the Beatles saw very little of this revenue

opened the American musical market to other British bands
attempts to get Capitol records (EMI's American label) interested in the Beatles had failed

Martin licensed early singles to independents Vee-Jay & Swan
persuaded them, however, to release the 4th single ("I Want to Hold Your Hand") and a follow-up album (Meet the Beatles)

with the release of "I Want to Hold Your Hand" (#1), Parlophone had held the #1 slot for 37 of the past 52 weeks
The Sound of the Beatles LIVE, pre-American Beatlemania
A very interesting pespective about the Beatles' live sound is provided by Coling Fleming in this article in the Atlantic entitled "50 years later: The greatest Beatles performance of all time, (Oct. 24, 2013)," in which he claims that this performance debunks the myth that the Beatles sounded terrible in performance. There are numerous recordings included of a performance before an audience of about 100 people at Stockholm's Karlaplansstudion on October 24, 1963; thankfully, this performance was broadcast over the radio and is now available on YouTube. This performance was during a period when, less than a year ago, the band had completed their last residency at Hamburg's Reeperbahn distric and preceding their surreal arrival in Amercan in February 1964 and the infamous Ed Sullivan Show appearances. Noticeably absent from this recording is the hysterical screaming that became a part of Beatles live performances shortly after ... so you can actually hear the band very well; and they sound good! Enjoy this "blast from the past" ...
February 1964 - Beatlemania Arrives in America
2/2/64 - greeted by screaming mob (~5,000) upon arrival at NY's Kennedy airport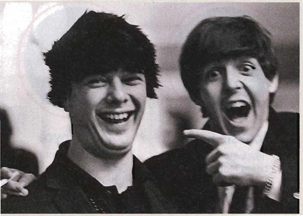 Brian Epstein sporting a "Beatle wig" (with Paul); photo taken in 1964 by Ringo
often couldn't hear the music at Beatles concerts because of the girls' screaming
"they used us as an excuse to just go mad.... We were the ones trapped in the middle of everyone else going mad." (G. Harrison)
2/18/64 - the Beatles meet Cassius Clay (a.k.a. Muhammad Ali)

3/28/64 - Beatles have 10 song simultaneously in the Top 100 (!!!!), including "Twist and Shout" (reached #2 ... evidence of Beatlemania)

surpassed Elvis' previous record of nine (12/56)
by mid-April, there were fourteen Beatles singles in the Top 100

4/64 - "Can't Buy Me Love" became first record to top the American & British charts simultaneously
4/4/64 - Beatles held the Top 5 spots on the Billboard Charts
Can't Buy Me Love
Twist & Shout
She Loves You
I Want to Hold Your Hand
Please, Please Me
August, 1964 - Beatles perform at the Hollywood Bowl
also, during the summer of 1964, they released Hard Day's Night

NOTE: check out this very cool explanation about the opening chord of the title track from the film by Randy Bachmann (guitarist for the Guess Who & Bachmann-Turner Overdrive)

returned to the US in August for a 2nd national tour
2nd movie (Help!) was just as succesful
subject matter of the movies largely determined by band wishes ... never been to the Bahamas, always wanted to ski, etc.
1964-65 - life as rock stars was in full swing
By 1965, Lennon & McCartney were rarely writing songs together
August 1965 - release their second movie: Help! ... here's the opening segment, with the absurd "set-up":

returned for 3rd tour in August 1965 at NY's Shea Stadium (8/15/65)

record for largest concert audience - 55,600
issued in a new era in rock concerts (outdoor stadium)

10/26/65 - awarded the MBE (Member of the Order of the British Empire)

caused some previous recipients to return theirs
Lennon returned his in 1969

[click photo to see a video interview with the Beatles about this award]
1966 - tour of Japan

performed in the Nippon Budokan Hall (martial arts theater) which was considered a "violation" by traditionalists
visit to Japan was scheduled "to the minute" ... hurriedly rushed from place to place

[Click image above to see an interview of
The Beatles discussing their experience in the Phillipines.]
tour of the Phillipines - bad experience

invited to dinner by the Marcos family on their day off, but said "no thanks"
government (Emelda Marcos) felt shunned, let her feelings be known
as a result, the Beatles had substantial difficulty in finding a ride to the airport
Musical style of the Beatles' Early Period:
pleasant, upbeat rock tunes
easy to listen to, dance to, and enjoy
not revolutionary or profound
[ Previous | Table of Contents | Next ]