[ Previous | Table of Contents | Next ]
true innovator of the electric guitar - Hendrix arrives

played right-handed Fender Stratocastor upside down, strung upside down, so that string order was the same (lowest strings on top, highest on the bottom of the neck)

taught himself guitar by listening to blues (Muddy Waters & BB King) and rock (Chuck Berry & Eddie Cochran)
1961 - discharged from the army due to parachuting injuries

began working in NYC as sideman "Jimmy James" for Sam Cooke, BB King, Little Richard, Jackie Wilson, Ike & Tina Turner, and the Isley Brothers

1965 - formed his own band Jimmy James & the Flames to play Greenwich Village coffeehouses
1966 - Chas Chandler (bassist for the Animals) took him to London where he formed the Jimi Hendrix Experience; Noel Redding (bass) and Mitch Mitchell (drums)
successful in England, but not introduced to US until his appearance, at Paul McCartney's insistence, at the 1967 Monterey Pop Festival

Who/Hendrix discussion of performance order ... Jimi lost and had to follow The Who
Purple Haze
innovative guitar sounds, using only his Stratocaster, amp, Maestro fuzz box, wah-wah pedal, and nose-bleed volume

used toggle switch & tremelo bar

Hendrix was a real showman

played guitar behind his back and/or with his teeth
undulated & writhed on stag
"Foxey Lady"

performance of Dylan's "Like a Rolling Stone"
Electric Ladyland (3rd album; 1968) was his only #1 album

containing Dylan's "All Along the Watchtower," Hendrix' only Top 40 single (#20, 1968)
the album also contained several highly experimental works:
And the Gods Made Love

opening cut on the album, using tape-speed manipulation to create a brief electronic composition

mainstream rock

long guitar improvisation, typical of the experimental San Francisco era

two video performances & commentary:
- Jimi on protest songs through Townsend's reflections on the death of so many musicians of the era

12-bar blues; excellent rock/blues guitar technique

Rainy Day, Dream Away

opens side 3 as a gentle rock song (hint of jazz)

Moon Turn the Tides

fine "artsy" musicianship of Hendrix, Mitchell, & Redding

returns on side 4 with a harder rock sound ... listen to guitar tone
Hendrix was far more than a flamboyant, drug-influenced, sexually explicit performer

he was truly ahead of his time.
performed as the culminating act at Woodstock
Hendrix with Mick Jagger in 1969.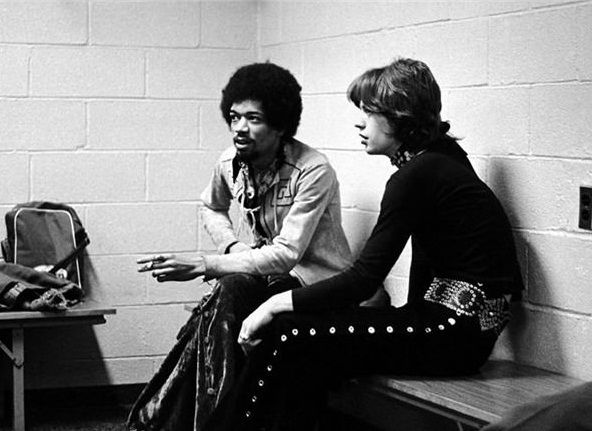 1969 - disbanded the Jimi Hendrix Experience and retreated to upstate NY ... remember Dylan?

opened his own recording studio (Electric Ladyland) and began recording his own album

1969/70 - formed a new band with Bill Cox (bass) & Buddy Miles (drums) called Band of Gypsys
early 1970 - in the middle of a performance, stopped playing & walked offstage
9/18/70 - Hendrix died ("inhalation of vomit following barbiturate intoxication")
Jimi Hendrix' funeral ... Mitch Mitchell (drums) is on the far right & Noel Redding (bass) is second from the right

has become deified by later guitarists & musicians
Noel Redding died in 2003 and Mitch Mitchell passed away on November 12, 2008.
Death of the 3 J's between 9/18/70 and 7/3/71:

(includes discussion of the deaths of Janis Joplin, Jim Morrison, & Keith Moon)

9/18/70 - Jimi Hendrix
10/4/70 - Janis Joplin
7/3/71 - Jim Morrison


later tragedy: Keith Moon's death 7/7/78
[ Previous | Table of Contents | Next ]